"Who Stole The Moon?" Interactive e-book for iPad and iPhone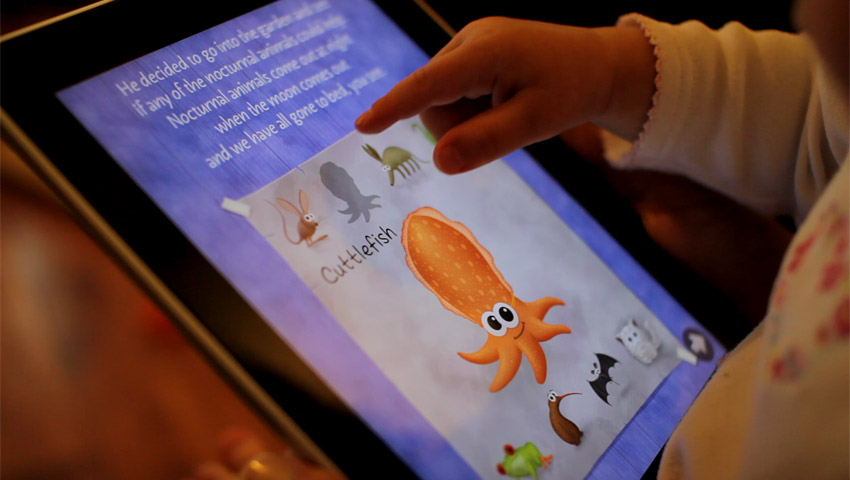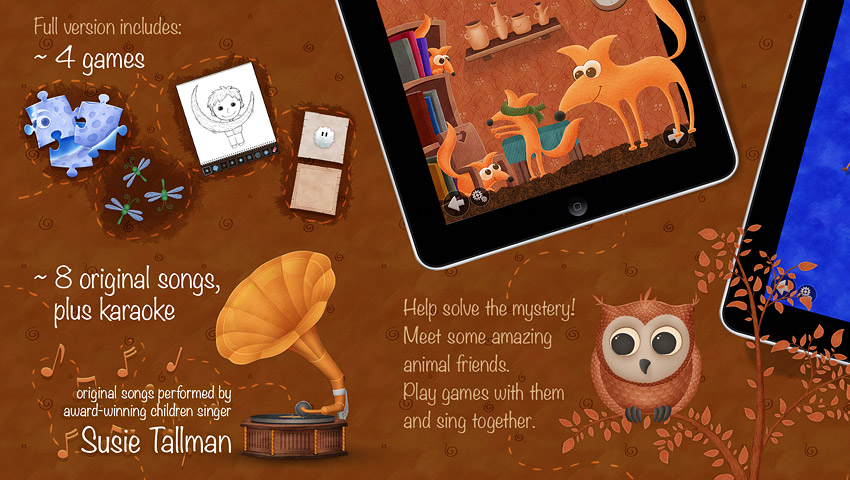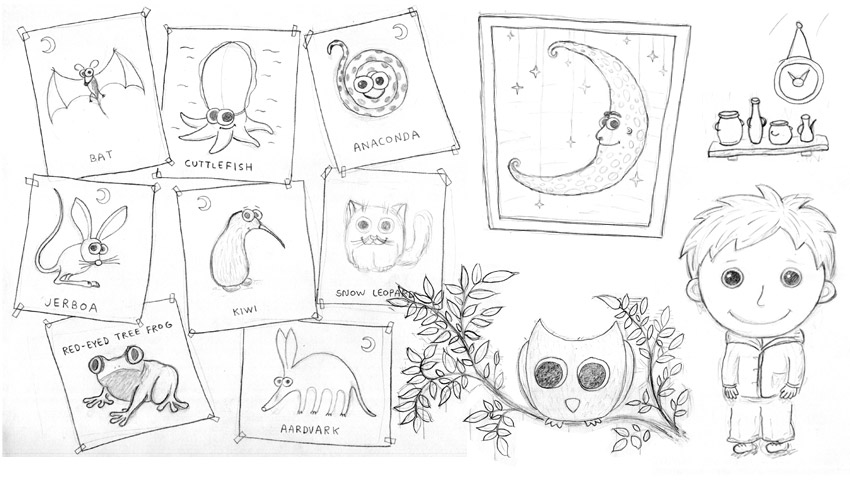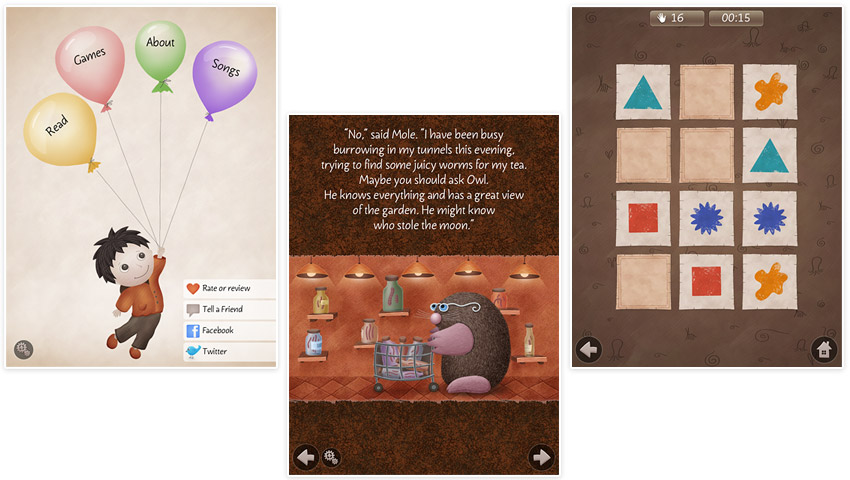 ---
Join Bertie on his quest to find the moon, with this charming bedtime story that will gently nurture your child's imagination, and send them off into the magical world of dreams.
8 original songs performed by award-winning American children's singer Susie Tallman and well-known Australian musician Richard Pleasance.
Listen to a song, or sing yourself in karaoke mode!
4 games: Catch The Dragonfly!, Coloring, Memory, Puzzles
This book is interactive! Touch and drag things across the screen.
Curious how this app was made? Find out in our blog.
Did you like our book? We'll appreciate if you "Like" our Facebook page and follow us on Twitter.
Available in English, German, Spanish, French, Italian, Dutch, Russian, Ukrainian, Portuguese, Swedish, Czech, Turkish, Afrikaans, Chinese, Korean, Japanese.
---
---
Reviews
Glenn Jystad, United States
Wow. Excellent job. Great graphics (as usual). Wonderful animations to make it come alive. This is a winner!
Terry Ches, United States
A perfect product. Color friendly and beautiful interface.It brings comfort to your child.
Sinister2005, United States
Best e-book ever.
StoneAppleMusic, United States
Great artwork, great story, and lots of interactivity. Also wonderful games. My kids love it! WSTM has allowed me to see the future of eBooks and endless possibilities to capture our imaginations.
BDav49, Canada
This is a fantastic App. I love it as much as my 21 month old grandson. The illustrations, narration and music are very appealing. There are hours worth of fun in this app.
Laura99337, United States
My daughter loves reading "Who Stole the Moon?". It is very creative. Overall great bedtime story and fun for little ones. Thanks!!!
Expertismo, Indonesia
Excellent graphic and very lively illustrations. Superb in the originality of the story. My kids and myself really enjoyed reading it through again and again. Two thumbs up.
Zachary Ethan, United States
My son loves the book and I did end up buying the book after he watched the partial version.
Donna Gorman, United States
Fabulous! Good story, great illustration. Love the interactivity.
Anouk, Netherlands
We are just starting with ipads in our library. The Moon is our first choice for the kids. Really loved your work and looking forward to the next ones.
KittyKatpurs, India
Brilliant:) I'm a teacher at a play home and all the children totally love this app.. They just cant get enough of it.. And this is one story they can clearly remember ..Its very helpful while teaching and the additional features are great..Simple and easy to use:......
Veekshith, India
Best reading Experience ever on my Ipad This app is totally awessome the way it has been made.. Learning french,so did the whole reading in french. And this app kept me hooked on to the whole story though my French ain't that great.. A of lot other languages are also available.. And I guess I culd never get bored of reading this story using this app.. nice experience....:-D
Ptholome Ac, Ireland
It is an amazing book whish I'm sure, it are going to like every children.
BillyJ987, United States
Coolest thing ever! Even if it`s a little expensive, if you choose to buy the full version, your kid will be happy. I`m glad i bought it.
Rao Venkat, India
Very good and enjoy by recollecting memories of childhood days.
Haircutdaddy, Canada
Wonderful App! My four-year-old daughter was entranced. Perfect for bedtime or anytime. Looking forward to more stories.
Julialovebook, South Korea
This book is Great & Cute. I love it :-)
Ashu1997, India
This apps like the best thing you could possibly get for narrating a story..My brother totally loves.. I play the games too along with him.. Its all perfectly made and my brothers gonna learn a lot along with the entertainment ..Couldnt ask for more..Cheers!:)
Ramsharan G.J., India
This is one of THE most amusing and entertaining app one could get for my child so far... He totally loves it. And the way the story has bin narrated along with all the additional music by great artists is just awesome... Not to forget the karaoke which is awesome too. I dont think theres any addition that can be done to the app to make it any better. Highly RECOMMENDED and a complete 5 star for its awesomeness!!:)
Lene Randol, United States
So Much Fun! The book is very appropriate for bedtime and the games are so much fun. My daughter can't put it down, and I can ask her to finish homework early and let her play the games on my iPhone in return.
Arutyun Mokoyan, United States
It's awesome interactive book! Amazing design, great interactive games, songs and karaoke! Definitely recommend for kids! Worth to buy!
Cliff Spab, United States
Application is highly educational and beneficial for children. Beautiful interface and easy to use it. Great!
E&B's mom, United States
My 3 1/2 year old daughter loves it! It really is great! Keeps her interested and artwork is amazing.
Mason Browne, United States
Wonderful story, beautiful art. Well executed interactions. Keeps the reader busy trying to find what he can touch!
Marlize1, Australia
The variety of languages and the interactivity makes this a favourite of my boy. They meet my need for Afrikaans books, as we live in Australia where we do not have easy access to Books in our native language. I will recommend this app to anyone. We love this book!
Outlaw0008, United States
I had my doubts when buying this app, but it was well worth the money spent.
René Overhorst, Netherlands
Magical! We've been Vlad-fans for years and use his wallpapers on every I-device. This app is a magnificent version of the original book (which resides on our bookshelves) and it was an absolute no-brainer to buy the full version!
BrightMeadow, United Kingdom
Beautifully illustrated and designed with fantastic interactivity. Plenty of things happen to support the story when little fingers tap all over the screen! It is quite a long read, especially when you start playing the songs. The story is also quite sophisticated.
deadpuma, United States
Amazing interactive book for kids! The story is really great. The app has beatufill graphics, nice animations. There are also some built-in mini games. This app also include 8 great songs and karaoke! You can play games and sing in karaoke. Very fun app! Supports a lot of languages! Excellent book! Definitely worth buying!
Moonlover07, Israel
Brilliant! My 3 year old cannot have enough of it.
Danny Casson, United States
This is, by far, the most AMAZING book in apps! The story is adorable and the effects are simply unbelievable!! My girls fell in love with it!!
jakes.mommy, United States
Fantastic book! My son enjoyed this book! Great interaction for kids! Thanks for making such a wonderful app!
Sergey Chernyshov, Canada
Story, illustrations, games and songs - all Inclusive:), and all - cute and funny! Great book.
RichiRich, United Kingdom
Not only delightful and cute, but also educational, in a really subtle and non-pushy way. Don't see that much these days.
Honeybear85, United States
This interactive story has beautiful graphics and music. I love it and highly recommend it to the young and old and everyone in-between.
Icorp2012, Russia
My children really like it! Thank you!
Epupa, United States
The story is great and the UI too. My daughter loves this book!

MeroMero187, United States
Best app ever! So satisfied. It really is worth the money, I purchased this tonight and have tried it out for myself. I can't wait for my girls to see it in the morning. WONDERFUL!
hazardperception, United Kingdom
Lovely book, but a bit annoying when downloaded as a free app, that a couple of pages into the book, you are asked to pay for basically the whole story. Bit of a hiccup when a child is listening for the first time. Would have been better to make this a paid for app in the first place. Wonderful book otherwise.
Joey Bobby, United States
I downloaded the app for my kids and they just love it. The story is beautiful and entertaining. This is an interactive book so it is much more fun compared to conventional books. Highly recommended.
ksymeon, United Kingdom
Can easily become a classic! I bought this app for two reasons, one I'm a big fan of Vlad Gerasimov and his illustrations (his snow leopard is my iPad's lock screen wallpaper) and two because I do have a toddler who loves interactive books on the iPad. This app is amazing value for money. The story is long, the pages are alive, there are 8 original songs. My toddler wants to click absolutely everything on each page... 'No daddy, not yet!' and he turns the page back. The games are very good and he loves playing the jigsaw, although at 2.5 years of age he requires some help - the game is rated 4+ so no complaints here. My only criticisms would be that the app needs British English as a language option and a slightly more theatrical narration, I found it very blunt.

Having said that, this application represents much better value for money than anything similar in the app store. Plus, the illustration is second to none. Vlad at his best! 5 stars!
dreadnok, United States
Great book, well done pictures and story, I enjoyed as much as the kids did.
123flow, United Kingdom
Fantastic! This is how a book should be on the iPad. So much to touch and explore.
katoliva, United States
Love it!! The illustrations are amazing.
Popsicleloldash, United States
Amazing!!! "Who stole the moon" is by far the best interactive book out there!! It's super adorable and has fun throughout the whole thing!!! Everyone should have this app! :)
K-Squared, United States
Over the Moon! Outstanding interactive book for children. (and dare I say for adults too!) Lots of fun - great story - beautiful artwork. It's great to see wholesome, family books like this one.
Franchessie, United States
A wonderful storytelling app for kids and adults alike! The future of bedtime stories is finally here, and it's awesome. I downloaded this app for my niece and we both love it! The graphics are excellent, the games are fun, and the story is educational and entertaining at the same time. We played with the app over and over again, and we're still not tired of it. Highly recommended!


RichiRich, United Kingdom
Not only delightful and cute, but also educational, in a really subtle and non-pushy way. Don't see that much these days.
London-Tube, United Kingdom
Loving it! Good to see a book with 're-play' value.
Jessica Wharton, Australia
Wow, what an incredibly charming story! I can tell from just the first few pages that the rest of the book will be a treat.
John Schmidt, United States
Incredible! I have downloaded lots if different "interactive" books and this one actually gets it. Have always loved this artist's work and was not disappointed. Hoping for more soon.
Gr8 Mama, United States
An incredible app with beautiful illustration and awesome animation.
breat lee, Australia
Really magical. The music is so atmospheric. I've also never seen as much interactivity in an entire app as I've seen in just one page of this book!
Niklt, Netherlands
Best interactive book! I bought this book for my 4.5 years daughter and she's "reading" it and plays with the puzzles or the drawings or the memory games every evening before going to sleep. For four weeks in a row: record time! Rich interaction, great background music, soft reading voice (NL), great time spent together at the end of the day! Five stars, not four! Once again, it stays in the top of our preferred children interactive books!
Jenny Abber, United States
My kids take turn in playing the games. They are officially addicted. They also enjoy the songs and karaoke. The story is undoubtedly entertaining. The app gives so much more than I whoever would expect.