About Us
Windy Press is an innovative, independent publishing house, whose central office is located in the west suburbs of Chicago, USA. Our primary direction is the publishing of interactive digital literature for children and adults.

At the heart of the "live" books of Windy Press lies an original cross-platform book engine developed by the programmers of the publishing house. Each such book contains not only text, but also fine illustrations, colorful animation, as well as mini-games that are both entertaining and educational. Our original technology gives new life to books, transforming the reading process into an interactive dialogue with the world created by the writer's imagination.

The abundance of beautiful songs and instrumental melodies especially written for each Windy Press book makes our editions unique "book musicals". There is even a karaoke option if you or your child want to sing along!

One very special feature of Windy Press books is that they are multilingual. With the touch of a finger, you can switch from English to Spanish, from Spanish to French, German, Russian, Chinese, and so on. As a rule, each book includes more than ten of the most widespread world languages. And, of course, you always have a choice — to read on your own or listen to a professional voice artist.

The workers of Windy Press — writers, artists, composers, animators, editors, programmers, translators — all of us aspiring to one thing — to make this world a little bit better.

P.S. Someone may ask: "Why of all things "Windy Press"? What is meant by this name?" First of all, we wanted to demonstrate the refreshing speed of the digital publishing process. Secondly, one of our founding fathers — Vlad Gerasimov — lives in Russian Siberia where blizzards sweep across the land. Finally, let's not forget, our central office is located in Chicago, The Windy City.
For Press
A very short bio:
Windy Press is an international, digital publishing house headquartered in Chicago, USA. Its publications feature rich illustrations with interactive animations, as well as original songs and mini games. Each book is translated into many languages and narrated by professional actors.
Logo: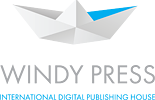 Download
.ai
,
.png
Media kits:
"Who Stole the Moon?" Media Kit
For more information:
Yuri Mezenko
(+1) 630-699-5832
info@windypress.com
Skype: ymezenko